The TrackMaster is a tracked wheelchair designed for all terrain mobility. The TrackMaster was designed with a single goal in mind: "Get people enjoying as much of life as possible". We think that's impossible when much of life isn't accessible. From the comfort of the home, out the door, over the curb, down the sidewalk, and into your favorite restaurant, the TrackMaster wheelchair gets you there and back again… effortlessly. When your friends or family invite you along for a walk on the beach or a hike in the woods, you can tell them try to keep up. Mud, snow, sand, rocks – when there's work to be done, the TrackMaster wheelchair is the one. Take life where you want to go!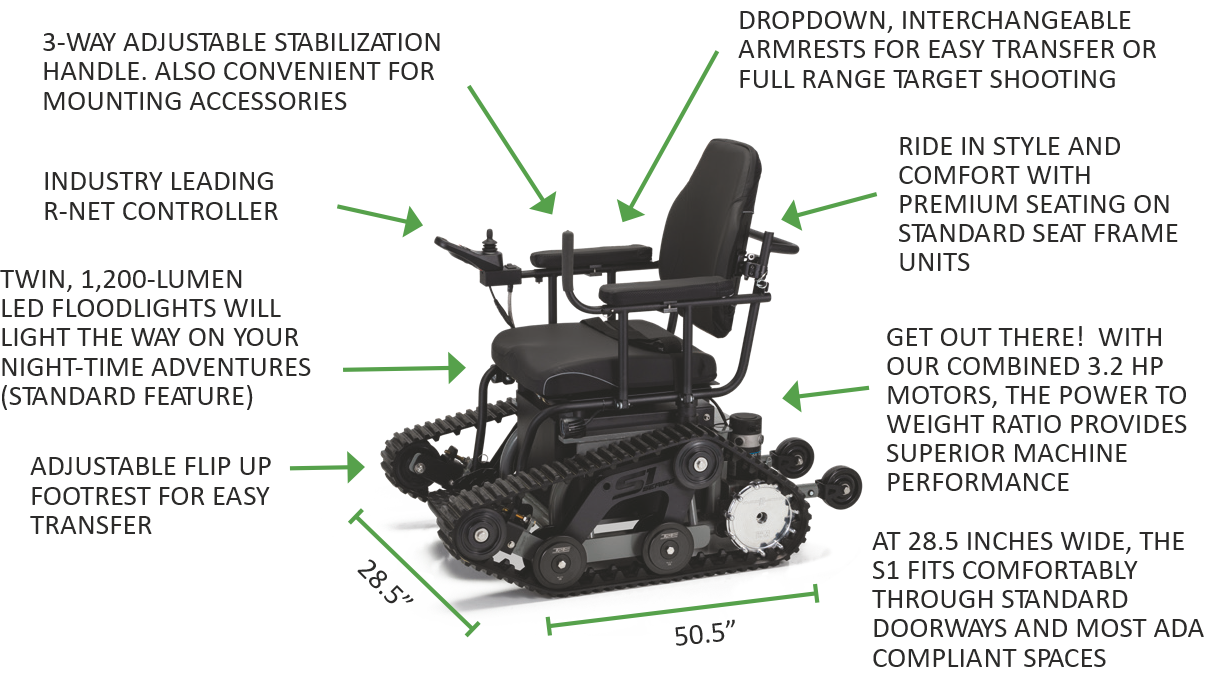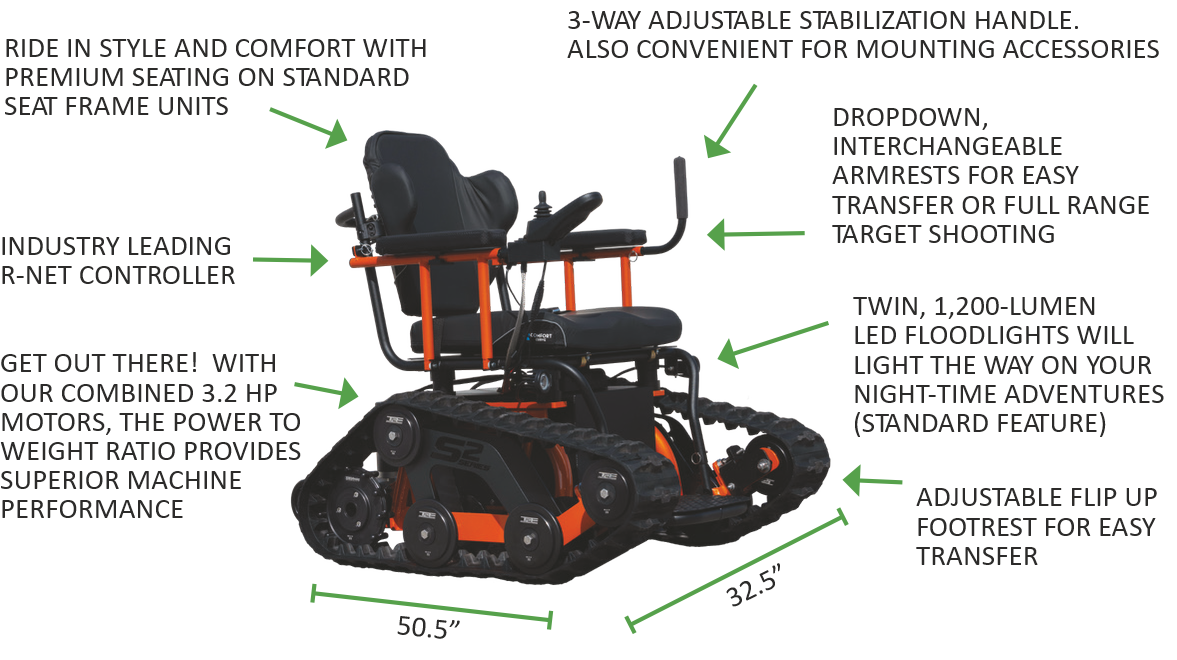 ADVENTURE RANGE AND SPEED:
• Top Speed 5.5 mph.
• A fully charged TrackMaster can produce
a daily adventure range of 10+ miles
based on battery options and terrain.
NCREDIBLE MACHINE BASE WEIGHT:
• Ground-breaking lightweight all-
aluminum chassis for easier transport.
• Group 24 Batteries: (Option 1)
Base weight (without seating) is 280 lbs.
• Group 28 Batteries: (Option 2)
Base weight (without seating) is 305 lbs.
STANDARD OR CUSTOM COLOROPTIONS AVAILABLE:
• Many custom color options available including new Mossy Oak patterns.
• Our most popular standard colors include Matte Black and Olive Drab Green
COMPLEX REHAB SEATING AVAILABLE:
• The Series 1 and Series 2 models can be fitted with Complex Rehab
Seating for more aggressive positioning requirements if needed
WHY TRACKMASTER?
With the new design of the TrackMaster Series 1 and Series 2 machines we took a top to bottom approach. With the precision fitted in-house designed and manufactured chassis, bogie and drive wheels, TrackMaster has the lightest and most efficient machines available.
Aerospace technology with a stout aluminum gauge chassis is designed with precision and careful selection of materials to provide a streamlined TrackMaster product. With our 3.2 HP combined motor output, lightweight design and new technology wheels, the TrackMaster Series 1 and Series 2 machines are truly designed for the spirited individual.
NEED MORE INFORMATION? CONTACT US